The Luba Slome Dental Center was founded in 1985 through the initiative of the South African United Israel Appeal and Dr. Isaac V. Perle, a prominent Boston dentist and former faculty member at Harvard University's School of Dental Medicine.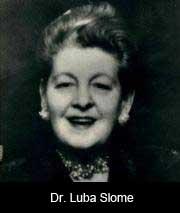 With the help of legendary former Jerusalem mayor Teddy Kollek and Benny Slome, the clinic was destined to become one of Israel's largest dental clinics. The new clinic was named in honor of Dr. Luba Slome, Benny Slome's mother and the first Jewish woman to graduate as a dentist from the University of Warsaw in Poland.
Since then, Luba Slome has grown to become one of Israel's top providers of dental services, with over 300,000 patient visits since 1985. In addition to publishing easily accessible material on dental health, the clinic offers educational workshops in its Education Room and runs workshops in kindergartens all around greater Jerusalem. Luba Slome's Family Dental Caries Prevention Programs have taught thousands of families how to improve dental hygiene and prevent costly and painful diseases. We aim to expand the program to reach even more families in the upcoming years.
Luba Slome's work is made possible by the generosity of our supporters and by a dedicated and highly trained staff of 45, including 16 dentists. Luba Slome's dentists choose to make a difference, even if it means taking a pay cut. Together with the children of the community, they bring a special atmosphere to the clinic which keeps patients and staff smiling.